Warriors Gaming Squad Announces 2019 Playoff Schedule
July 23, 2019
OAKLAND, Calif. – Warriors Gaming Squad (WGS), the NBA 2K League affiliate team of the Golden State Warriors, will tip off the 2019 NBA 2K League Playoffs against Blazer5 Gaming tomorrow, Wednesday, July 24 with Game 1 at 2:00 p.m. (PDT) followed by Game 2 at 4:00 p.m. and an if necessary Game 3 at 6:00 p.m. All playoff games will take place at the NBA 2K League Studio Powered by Intel in Long Island City, New York and will be livestreamed on the league's Twitch and YouTube Channels.
This marks the first-ever playoff appearance for Warriors Gaming Squad, who earned an automatic playoff berth by winning THE TICKET powered by AT&T earlier this season. In addition to the winner of THE TICKET, each of the top seven teams in the league qualify for the playoffs. The quarterfinals and semifinals of the NBA 2K League Playoffs will take place over three days of gameplay with each round consisting of best-of-three series matchups, culminating with the best-of-five 2019 NBA 2K League Finals on Saturday, August 3. See below for the full 2019 NBA 2K League Playoff bracket.
Warriors Gaming Squad finished the 2019 NBA 2K League season with an overall record of 16-10 (7-9 regular season, 9-1 tournaments) and became the first team in NBA 2K League history to win two of the three tournaments (THE TURN and THE TICKET) in a single season to earn two of the three banners that make up THE BANNER CHAIN presented by AT&T. In their single matchup of the 2019 season, Blazer5 Gaming defeated Warriors Gaming 64-53.
The winner of this quarterfinals series will match up against the winner of the T-Wolves Gaming versus Kings Guard Gaming series. Full 2019 NBA 2K League Playoff bracket is below: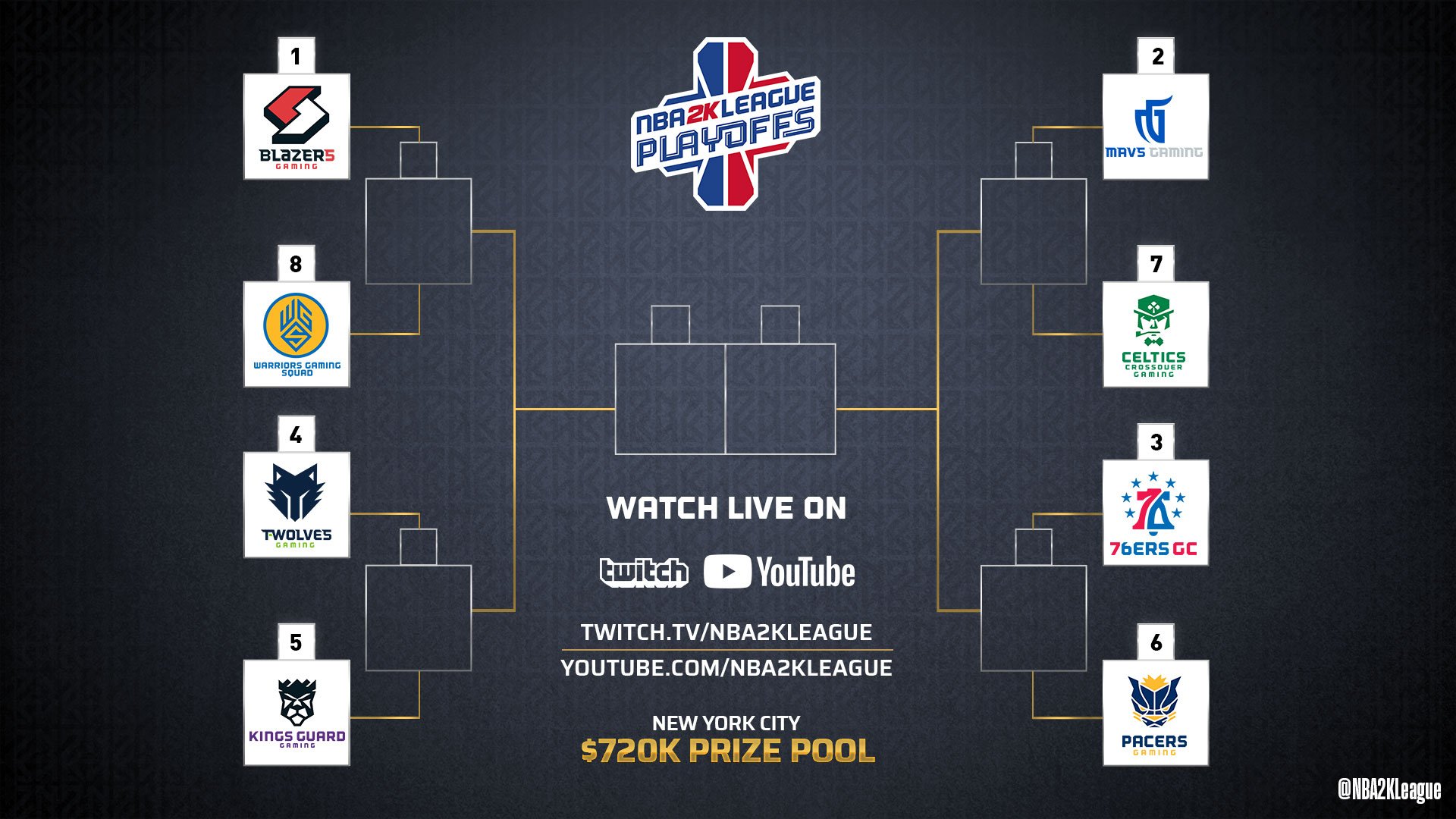 The NBA 2K League, a professional esports league co-founded by the NBA and Take-Two Interactive Software, Inc. (NASDAQ:TTWO), launched in 2018 and features the best NBA 2K players in the world. Each of the league's 21 teams features six players who compete as unique characters in 5-on-5 play against the other teams in a mix of regular-season games, tournaments and playoffs. Knicks Gaming won the first-ever NBA 2K League Finals on Saturday, Aug. 25, 2018. The league's second season takes place from April-August 2019. NBA 2K League partners include AT&T, Champion Athleticwear, Dell, Facebook, HyperX, Intel, New Era, Raynor Gaming, SCUF Gaming, Snickers and Stance. All NBA 2K League games are livestreamed on the league's Twitch and YouTube Channels. For more information about the NBA 2K League, visit NBA2KLeague.com.
For more information on Warriors Gaming Squad, visit @WarriorsGaming on Facebook, Twitter and Instagram, and warriorsgs.nba.com.